Nursery Wallpaper Inspiration for cozy baby rooms
Create a serene and healthy nursery room with our soundproof wallpaper.
Baby Room Wallcovering
Safe and Eco-Friendly Nursery Walls for Your Little Picasso
The laughter of a child as it explores this new, exciting world is precious. As parents, you provide a safe environment where they can grow and learn… and lick the walls or smear them with paint.
With Belka, you don't need to worry. Our natural, ecological wallcovering is free from chemicals and perfectly safe for your little one. What's more, you can easily clean off paint or drawings once you've admired your child's art works enough.
Explore the world of Belka wallpaper and create a room that your baby will love from day one!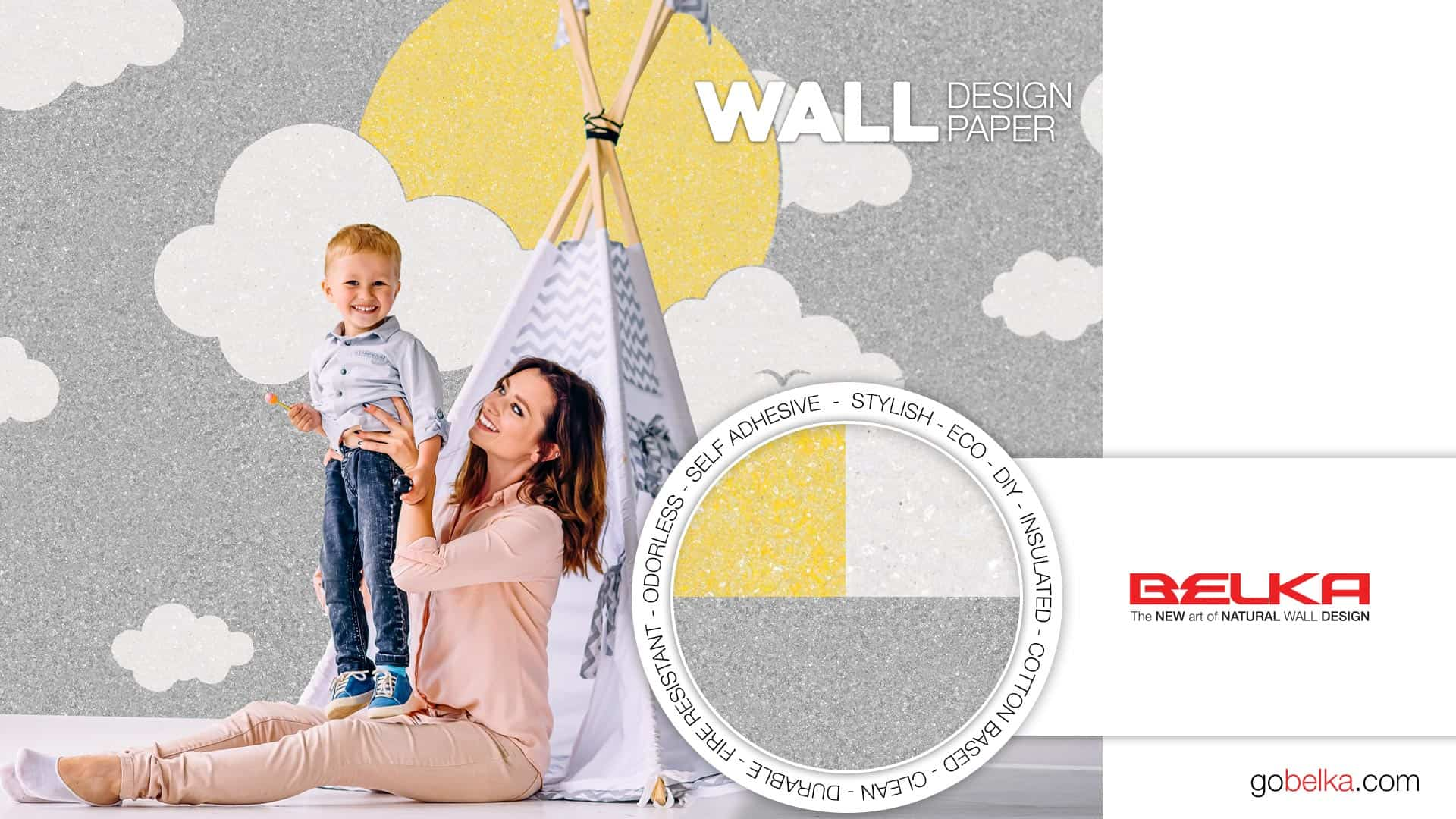 with Belka
Discover Modern Baby Room Wallpaper Ideas
From classic to modern, our 60 charming colors are as unique as your child will be. Which nursery wallpaper will suit your little one best?
Classic Blue Nursery Wallcovering Ideas
Unique shades of blue made from quality cotton will transform your nursery.
Create a nurturing atmosphere for your little one with chemical-free, easy-to-clean wallpaper from Belka.
Classic Pink Nursery Wallpaper Ideas
Enjoy long-lasting wall design that provides thermal insulation and supreme moisture resistance in delightful shades of pink.
Give your little one the comfort and protection they deserve with Belka pink wallpaper ideas!
Modern Nursey Wallpaper Ideas
Looking for a fresh, unique look beyond pink and blue? Explore our variety of colors and create the nursery of your dreams with Belka wallpaper!
Made to fit any style, Belka offers durable, colorfast wallcoverings that are easy to apply and remove.
Modern and Safe Wallpaper For Nursery Rooms
Modern nursery wallpaper that delights your little ones and yourself: Belka offers much more than blue or pink walls. Let your imagination play with over 60 colors and create unique designs in the nursery.
You can freely combine any colors and create a stunning pastel marble wallpaper or conjure up a multi-colored room. Or do you want to get even more creative and decorate your nursery with patterns?
Which color fits best in the nursery? Belka wallpaper grows with your child's need. Start with soft colors and create individual designs once your child knows what they like. You can even let it help decorate their room, because Belka is an absolutely safe nursery wallcovering.
Give Your Baby The Freedom They Deserve
Transform your child's room into a safe oasis and a joyful playground. With Belka on the walls, they are free to play, paint and get close to every corner of the room. As a nursery wallpaper, Belka is easy to clean and repairable no matter how creative your little one gets.
Easy-to-clean wall covering for your baby room
Kids love to draw on walls! As they explore their world, their endless curiosity will influence your wallpaper.
Good news: Belka has anti-dust and anti-static properties that give it an easy-to-clean surface.
Even better: You can remove stains, drawings or paint from Belka in a few easy steps. Just spray the area with water, scrape off the stain and smooth it down. For larger dents, you may need to apply more Belka to make it look as good as new.
If you're looking for an easy-to-clean nursery wallpaper that's even better than washable wallpaper, discover Belka.
Safe nursery wallcovering for your little one
You can feel the 100% natural ingredients when you touch Belka on your nursery wall.
Made from recycled cotton and mineral stones, Belka is the most eco-friendly wallcovering you can choose to transform your child's room. Your little one can touch, feel and even lick Belka because it's such a safe nursery wallcovering.
Our safety promise also applies to the use of Belka. We're committed to providing a safe, healthy, vegan and cruelty-free product that children can use. So let your little ones choose their favorite color and join you in creating their own safe and modern nursery wallcovering.
Removable baby room wallpaper for renters
Renting families often face a dilemma: they want a stunning nursery wallpaper, but they don't want to risk their security deposit.
Belka understands your needs and has developed a removable nursery wallcovering that will keep your wall safe. Even after years, you can simply spray Belka with water until it softens and then peel it off. The wall underneath will not be damaged.
With Belka safe nursery wallpaper, you can give your child the nursery of their dreams and still get your deposit back.
The next generation of wall design
In the 16th century, merchants used small sheets of paper to decorate the inside of their cabinets. Today, wallpapering is a messy, difficult, and time-consuming way to freshen up your interior.
Good news for your patience and your walls: As a new technology wallpaper, Belka recognizes the problems of wallpaper and solves them for you. Belka adheres to any surface and requires no preparation. It's a clean wallcovering, and with more than 60 colors, you can find a combination that perfectly matches your style.
Say goodbye to paint splashes
Humans love decorating walls so much that we've been painting the interiors of our homes since the 12th century. Paint also means we're ruining clothes, furniture and our health with paint splashes and harmful toxins.
Belka is a natural, DIY wallcovering that is faster to use and safer than paint. It provides powerful insulation without the use of chemicals. Good for you, your wallet and the environment – welcome to the next generation of wallpaper.
Explore Belka Wallpaper For Any Room
If you love Belka as your safe baby room wallcovering, you'll also enjoy this ecological wallpaper in the rest of your home.
Whether kitchen design inspiration or examples for soothing bedroom wallpaper, Belka has you covered!
Or are you looking for a durable wallpaper for your business? Belka will insulate your restaurant, hotel or office while providing a luxurious finish for years to come.