Contemporary Restaurant Wallpaper Ideas

The repairable, fire-proof wallpaper that will delight your staff and your guests
Charming wallpaper for restaurants.
Tasteful Restaurant Wallpaper
Delicious dishes in a cozy, familiar atmosphere or fine dining in a luxurious setting - the restaurant experience is about much more than food. Restaurant wallpaper plays a vital role in how comfortable your guests feel and whether they become regulars.
With Belka wallpaper, you can add a unique visual element to your dining experience that will enchant your guests and staff alike.
Explore the color variety of Belka and its many benefits as a restaurant wall covering.
Discover Restaurant Wallcovering For Every Taste
From bright orange to sunny yellow, from luxurious finishes to street food edges, all Belka colors are designed to withstand the daily hustle and bustle of a restaurant. Which modern restaurant wallcovering best suits your brand?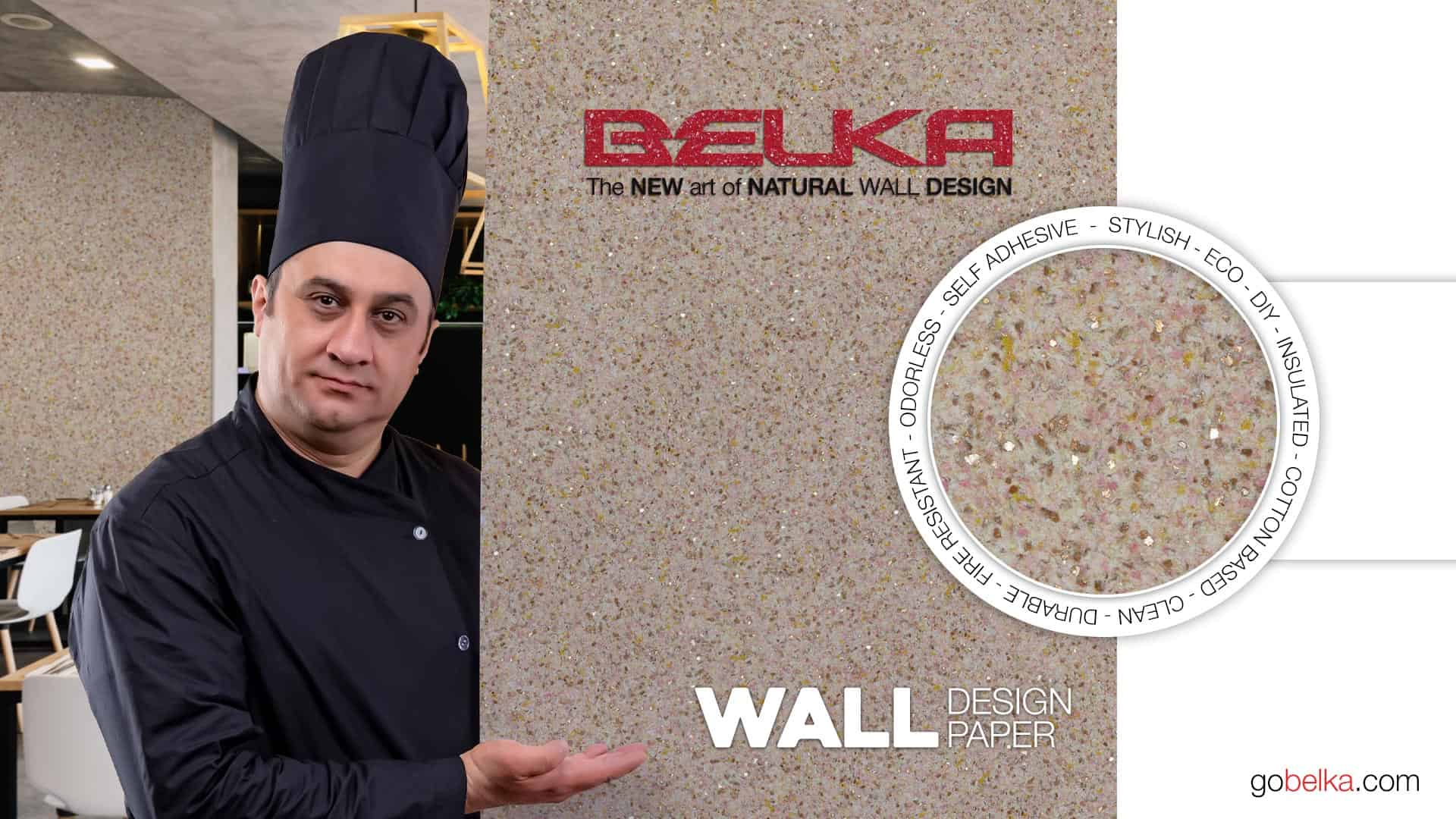 Add your logo to the restaurant wall with Belka wallcovering
Want to impress your guests and inspire your staff? Decorate the walls of your restaurant with your logo. We designed Belka to allow for endless creativity. Simply create a template, choose your colors, and add your logo to your restaurant walls.
Go green with sustainable restaurant wall covering

Green wall decor associates your restaurant with healthy, sustainable food in the minds of your guests and adds a calming atmosphere to your business. What's more, the wall design itself is 100% natural and sustainable. Go green with Belka restaurant murals!
Easy to Clean Restaurant Wallpaper
Worried about cleaning stains from your restaurant wallpaper or repairing dents from daily business?
You can easily remove food stains from Belka wallcoverings or repair dents.
Where you'd have to repaint an entire wall, you can simply remove the stain or blemish with Belka. Where you'd have to remove and reapply wallpaper if you damaged the wall, you can easily repair the wallpaper with Belka.
Reduce Energy Costs With Thermal Insulation Restaurant Wallcovering
Belka is more than just an ecological wallcovering with a stunning variety of colors. One of Belka's most innovative features is that it insulates your walls from the inside out, reducing your energy bill and saving you money.
If you're looking for a way to make your restaurant more energy efficient, apply Belka to all walls and ceilings. This will increase the insulating effect of the Belka wall covering… and look stunning!
Long-lasting restaurant wallpaper
Based on state-of-the-art technology, Belka is more durable than restaurant wallpaper alternatives such as paint and classic wallpaper. Its cotton texture makes it impact resistant, so it won't be easily damaged.
Belka restaurant wallpaper will support your business during family celebrations, company holiday parties, and the normal hustle and bustle of a Friday night, so you can focus on your passion.
Fire-resistant wallpaper
A fire in your restaurant can cost lives and ruin your property. That's why more and more restaurateurs are choosing fire-resistant wallcovering to reduce the risk of damage.
Belka is TSE certified as non-flammable, even at high temperatures, and will keep you safe.
Removable restaurant room wallpaper
If you own a restaurant but rent the space, you know the dilemma: you want a stunning wallpaper for your restaurant, but you don't want to risk your security deposit.
Belka understands your needs and has developed a removable restaurant wallcovering that will keep your wall safe. Even after years, you can simply spray Belka with water until it softens and then peel it off. The wall underneath will not be damaged.
With Belka restaurant wallcovering, you can create the dining experience of your dreams and still get your deposit back.
An easy alternative to wallcovering
In the 16th century, merchants used small sheets of paper to decorate the inside of their cabinets. Today, applying wallpaper is a messy, difficult, and time-consuming way to freshen up your interior.
Good news for your patience and your walls: As a new technology wall covering, Belka recognizes the problems of wallpaper and solves them for you. Belka adheres to any surface and requires no preparation. It's a clean wallcovering, and with more than 60 colors, you can find a combination that perfectly matches your style.
A better way to paint your walls
Humans love decorating walls so much that we've been painting the interiors of our homes since the 12th century. Paint also means we're ruining clothes, furniture and our health with paint splashes and harmful toxins.
Belka is a natural, DIY wallcovering that is faster to use and safer than paint. It provides powerful insulation without the use of chemicals. Good for you, your wallet and the environment – welcome to the next generation of wallpaper.
Explore Belka Wallpaper For Any Room
If you enjoy Belka as your sound-absorbing office wallcovering, you'll also love this ecological wallpaper in your home.
Whether you're looking for kitchen design inspiration, modern living room design ideas, or soothing bedroom wallpapers, Belka has you covered!