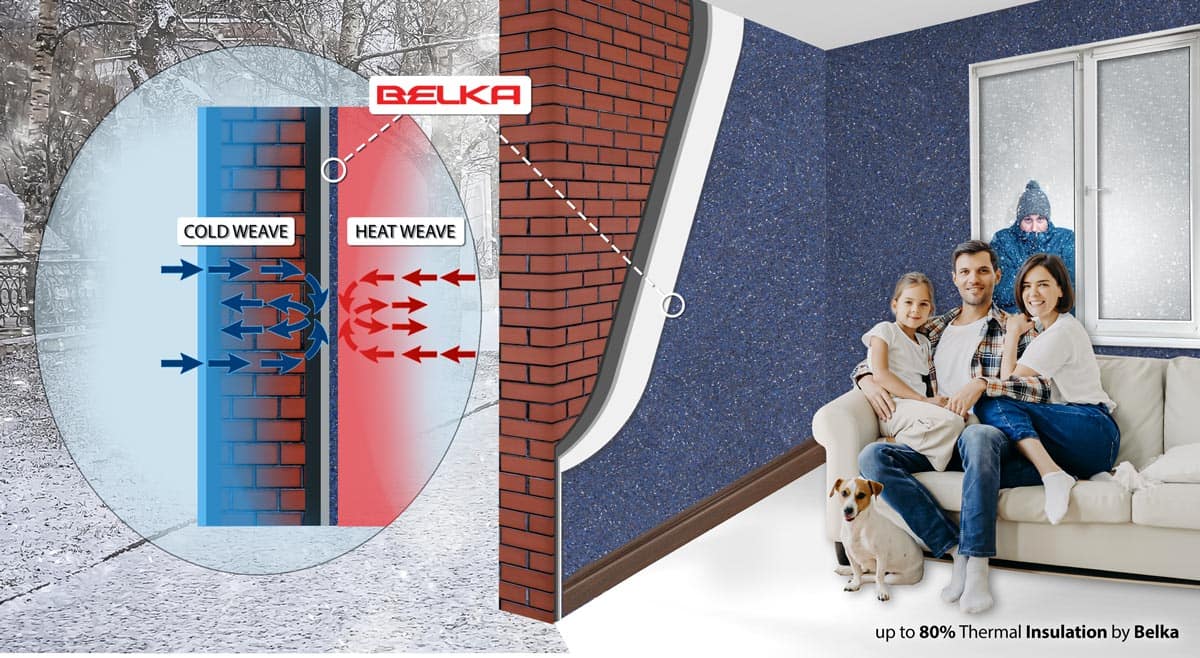 The Heat Insulation Wall Design For an Efficient Home
Combining form and function: Belka's natural cotton fibers insulate walls from within, reducing your energy costs while enhancing any living space.

Professional help with application? Not with Belka! Its do-it-yourself application makes Belka wall design even more practical and cost-effective. The ideal choice for any homeowner or tenant.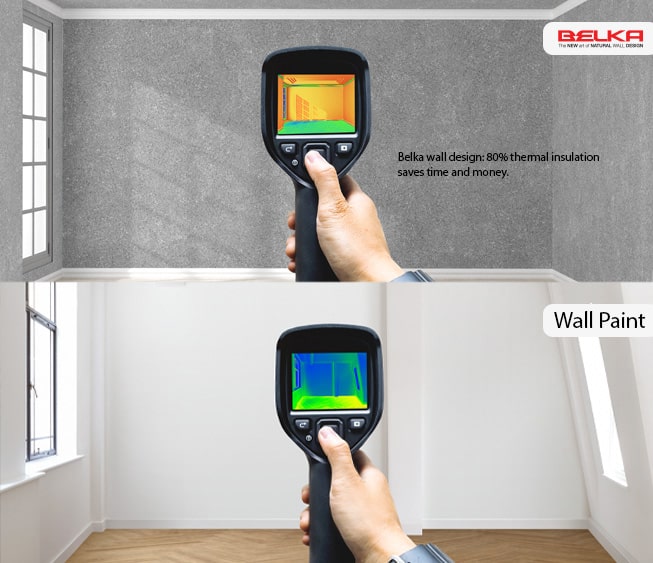 Why Is Belka The Efficient Heat Insulation Wallpaper You Need?
If you live in an older building, you're probably familiar with the many problems associated with heat loss. When heat escapes through cracks or poorly insulated areas, you have to heat your home more, increasing your energy costs and your impact on the environment. Traditional insulation methods are expensive and time-consuming to install, leaving many homeowners struggling to find practical solutions.
2. Belka's Natural Solution for Style and Savings
Fortunately, the search is over: Belka's natural cotton fibers create a layer of insulation that helps regulate the temperature of the room, reducing the amount of heat lost through the walls. No need for an extra layer – Belka wall design combines thermal insulation with a stylish finish. Whether you're a homeowner or a renter, Belka will help you reduce your energy bills while improving your living space!
3. Sound Absorption, Durability, DIY
There's a lot more to Belka than thermal insulation: The revolutionary wall design also provides excellent sound absorption and is highly durable. You can easily apply our impact-resistant wall design yourself, covering cracks and supporting the structural integrity of your home. What's more, Belka Wall Design adheres to any surface, adding an extra layer of protection and insulation.
4. Choose Belka for Sustainable and Affordable Insulation
By choosing Belka for your walls, you'll enjoy the benefits of a sustainable and environmentally friendly solution that looks great and provides practical benefits. Say goodbye to high energy bills and hello to a more comfortable and sustainable living space with Belka.
Stylish Insulation by Belka
Check out our wide range of color options and keep your living areas at the perfect temperature with ease.
How does Belka heat insulation work?
Curious about what else Belka offers?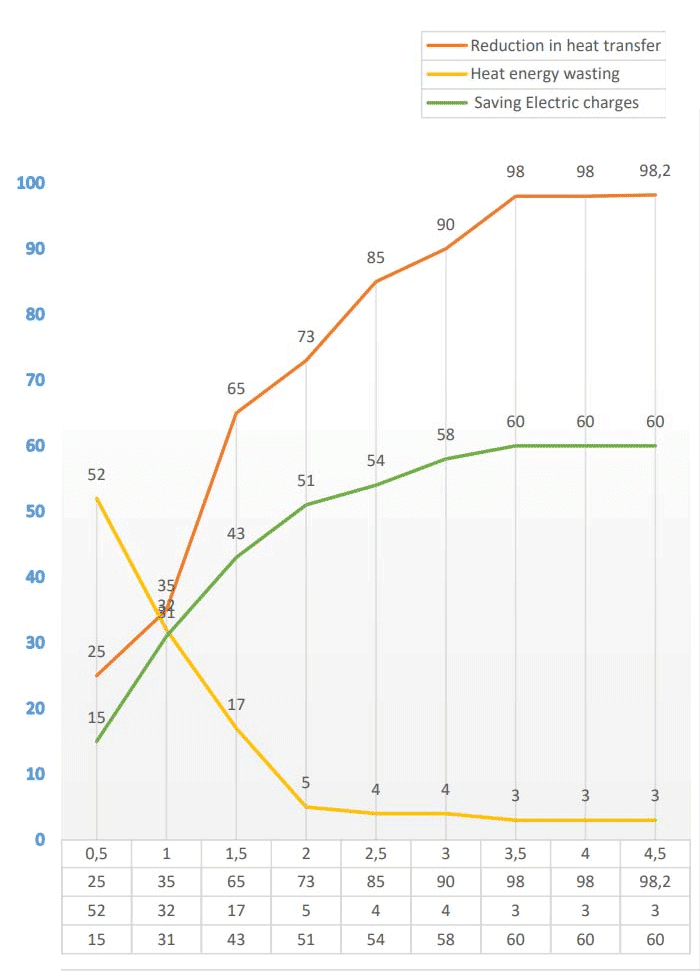 DIY Wall Design in 3 Simple Steps
It's really that easy: All you need is Belka, water, and a trowel to transform your walls and ceilings with custom designs.
ADD WATER
Pour Belka into a storage container and add water.
KNEAD
Knead the mixture thoroughly until it forms a dough and let it rest for 35-50 minutes.
APPLY
Now the fun begins! Take your trowel and apply Belka directly onto any surface.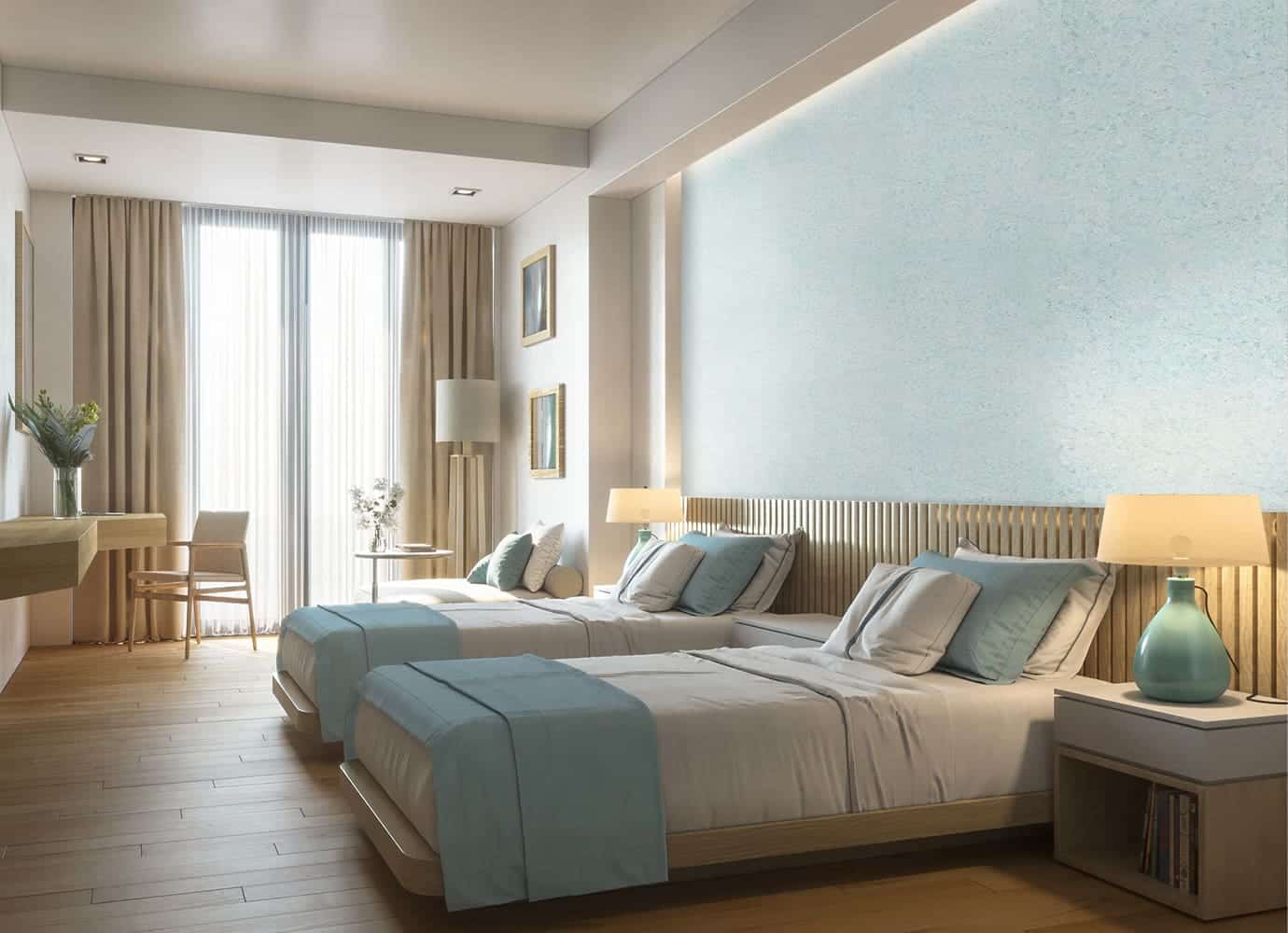 Don't just take our word for it
Hear what our customers have to say
Benefits of using Belka for heat insulation
Lower energy bills and increased energy efficiency
More comfortable living space with consistent temperature
Reduced environmental impact
Installation process
Step-by-step guide on how to install Belka for optimal heat insulation
Tips and tricks for achieving the best results
Frequently asked questions
Testimonials
Reviews and feedback from satisfied customers who have used Belka for heat insulation
Before and after photos showing the difference in energy bills and comfort levels
Call-to-action
Encourage visitors to try Belka for their heat insulation needs
Provide links to purchase Belka or request more information
Offer a discount or promotion to encourage conversions