Cozy Bedroom Wallpaper Decor Ideas
Belka wallcovering creates a tranquil bedroom ambiance that improves your sleep
Cozy Bedroom Wallpaper
Discover Trendy Bedroom Wall Design
The bedroom is a safe oasis for many of us. It's where we rest and relax, so of course we need cozy bedroom wall design that creates a soothing atmosphere.
Belka does so much more: It's a sound-absorbing bedroom wallcovering that improves your sleep and lets you sleep better!
Curious? Explore Belka wall design ideas and its unique features that make it an ideal choice for your bedroom decor.
Explore Stylish Bedroom Wall Design Ideas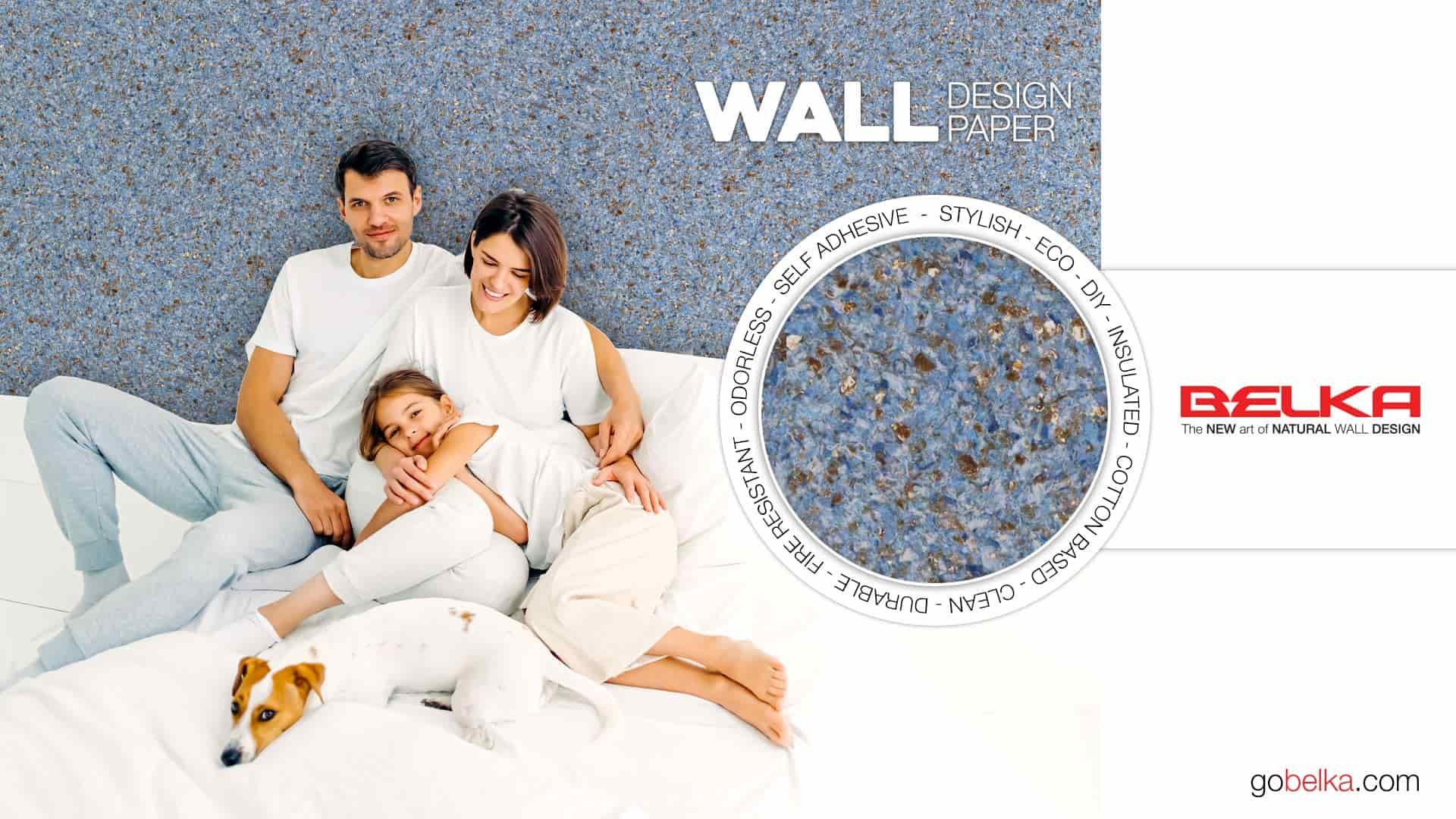 with Belka
Bring Your Own Style Into Your Bedroom

With Belka, you can do more than transform your bedroom into a tranquil oasis. You can create a space that reflects your identity and makes you feel truly at home.
At Belka, we offer 60 unique colors and inspire you with creative bedroom wall design ideas.
Cozy bedroom wall decor idea go blue!
Science confirms: Muted colors are best for your bedroom because they soothe you. 
So which color is best for the bedroom? The answer: blue! A 2018 study proved its calming effects on the brain when used as a wall design.
Ready for a mood boost? Try yellow bedroom wallpaper ideas

Let it energize you as soon as you open your eyes and start your day refreshed.
Sound Absorbing Bedroom Wallpaper
Cut through the noise with Belka: Especially in cities, outside noise can keep us from getting a good night's sleep.
What if your cozy bedroom wallpaper could also absorb sound?
Belka provides up to 60% sound insulation: The fibers of its cotton structure break up sound waves and then trap them in the air spaces inside.
With Belka, you can create a soothing atmosphere and improve your sleep with a sound-absorbing bedroom wallcovering.
Improved rest with thermal insulation wallpaper
Sleep scientists recommend cooler temperatures in the bedroom. Luckily, Belka is more than just an ecological wallpaper with a stunning variety of colors. It also insulates your walls from the inside out, keeping them cooler in the summer and warmer in the winter.
This means you benefit in multiple ways: Belka lowers your energy bill and improves your sleep.
Sleep better with Belka wallpaper
Speeaking of sleep science: It can teach us a lot about how to design our bedroom for optimal sleep.
Belka helps you at every level:
Belka's insulating properties help you keep your bedroom at the ideal temperature – 19°C, according to studies.
Our sound-absorbing bedroom wallpaper reduces noise pollution and helps you get a good night's rest.
Belka's anti-dust and anti-static properties make it ideal for people with asthma, and its pH value keeps insects away.
Natural bedroom wallpaper for your safe space
You can feel the 100% natural ingredients when you touch Belka on your bedroom wall.
Made from recycled cotton and mineral stones, Belka is the most eco-friendly wallcovering you can choose to transform your living space. We are committed to providing vegan, cruelty-free products in sustainable packaging.
So you can sleep easy knowing: Your creative bedroom wallpaper is good for your home and for the environment.
The next generation of wall design
In the 16th century, merchants used small sheets of paper to decorate the inside of their cabinets. Today, painting wall is a messy, difficult, and time-consuming way to freshen up your interior.
Good news for your patience and your walls: As a new technology wallpaper, Belka recognizes the problems of wallpaper and solves them for you.
Belka adheres to any surface and requires no preparation. It's a clean wallcovering, and with more than 60 colors, you can find a combination that perfectly matches your style.
A better way to paint your walls
Humans love decorating walls so much that we've been painting the interiors of our homes since the 12th century. Paint also means we're ruining clothes, furniture and our health with paint splashes and harmful toxins.
Belka is a natural, DIY wallcovering that is faster to use and safer than paint. It provides powerful insulation without the use of chemicals. Good for you, your wallet and the environment – welcome to the next generation of wallpaper.
Explore Belka Wallcovering For Any Room
If you love Belka as your bedroom room wallcovering, you'll love this ecological wallcovering in the rest of your home.
Whether kitchen design inspiration or examples for safe nursery wallcovering, Belka has you covered!
Or are you looking for a durable wallpaper for your business? Belka will insulate your restaurant, hotel or office while providing a luxurious finish for years to come.