Belka Features
At A Glance
Natural materials combined with modern technology make Belka the most ecological wall design you can choose. Explore all features here and learn more how Belka can save you time, money and effort.
stains and dents disappear
apply without preparation
Belka Features In Detail
Looking for an easy, high-quality way to renovate your home or redesign your business? Do you need a wallcovering that looks stunning and insulates your walls from within?
Then you need a new kind of wall design. Belka solves the problems of conventional technologies such as paint and wallpaper and introduces you to a new generation of wall design.
Belka Thermal Insulation Wall Design
Belka is more than an ecological wall design with a stunning variety of colors. One of Belka's most innovative features is that it insulates your walls from the inside out, reducing your energy bill and saving you money.
If you're looking for a way to make your living space more energy efficient, apply Belka to all walls and ceilings. This will increase the insulating effect of the Belka wall design... and look fantastic!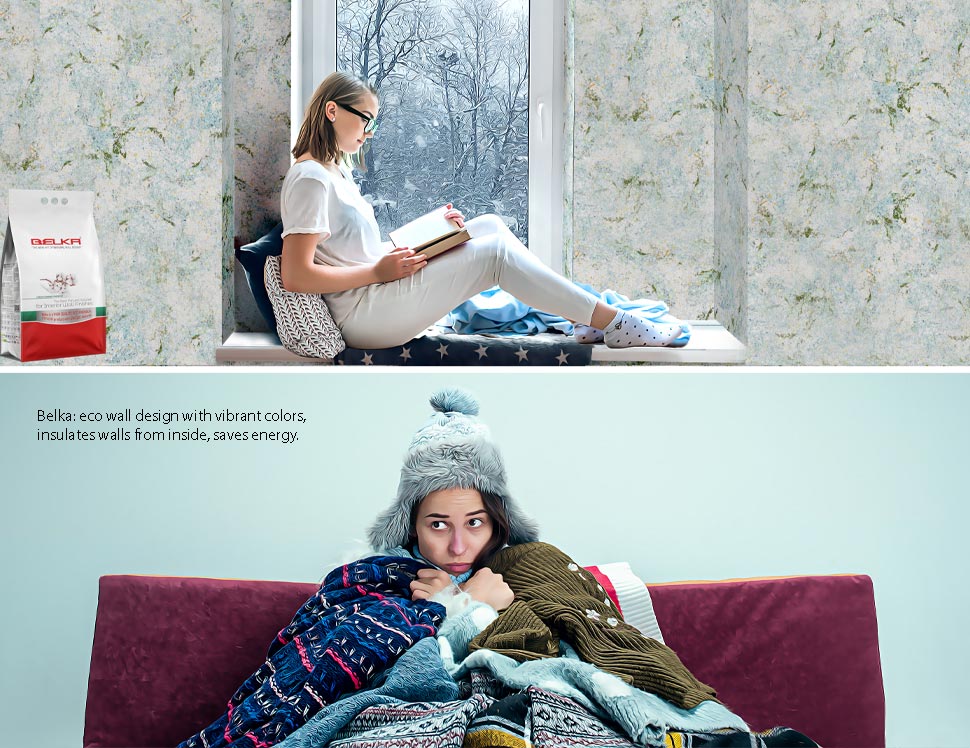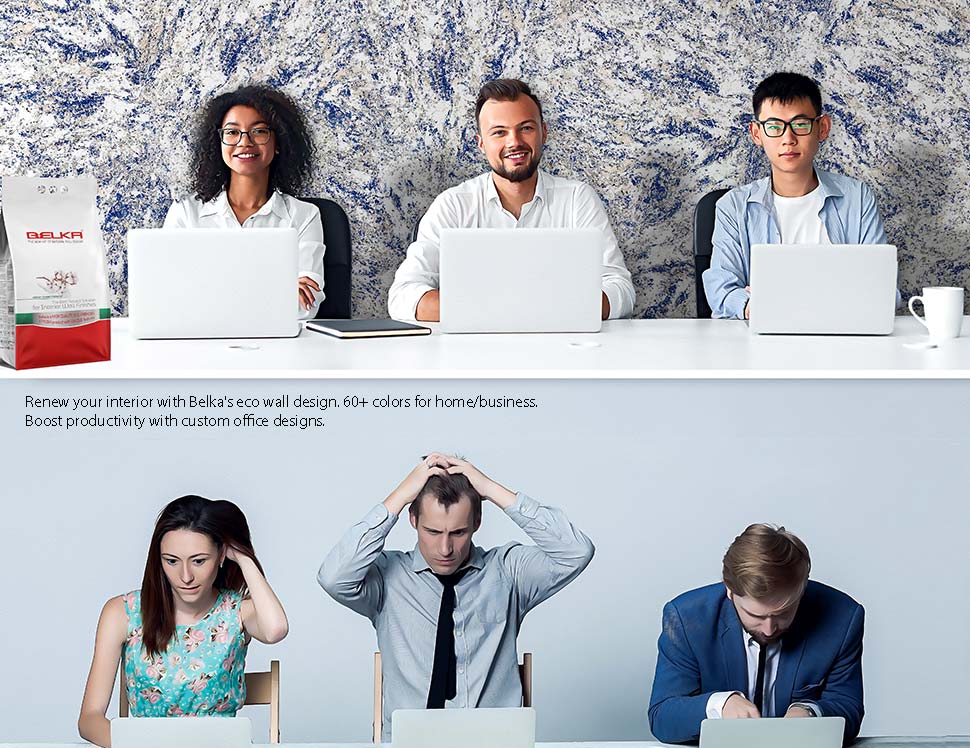 Stunning Designs for Homes And Businesses
Renew your interior with Belka's ecological wall design. Whether for your home or business, Belka offers more than 60 unique colors that are sure to match your style.
From a cozy living room wall design to a welcoming hallway, you can create a luxurious atmosphere at an affordable price. Choose a darker color for your TV accent wall and apply Belka thicker in your bedroom to increase sound absorption. Create unique children's designs in your nursery – or add your logo to your office wall with Belka!
For inspiration on how to redecorate your home or business, explore our gallery.
Belka Ecological Wallcovering
Made from recycled cotton and natural mineral stone, Belka is the most environmentally friendly wall covering you can choose.
From production to luxurious finish, we designed Belka wall coverings to be eco-friendly and reduce the carbon footprint of renovations:
Ecological production: Belka is 100% natural and chemical free, packaged in sustainable bags, and recyclable.
Eco-friendly renovation: You can use Belka wall design on any surface without primer and you don't need to cover furniture. This reduces waste during renovations.
Easy to remove and recycle: When moving or redesigning a room, simply remove Belka with water, then reuse or recycle. Since it's chemical free, it doesn't emit any fumes.
Vegan products: All Belka products are vegan.
Cruelty-free development: We care about animal welfare and would never think of testing Belka on another living creature.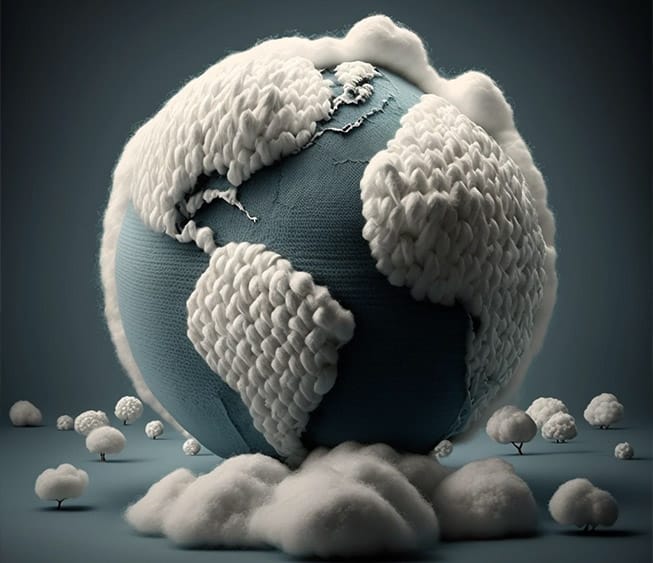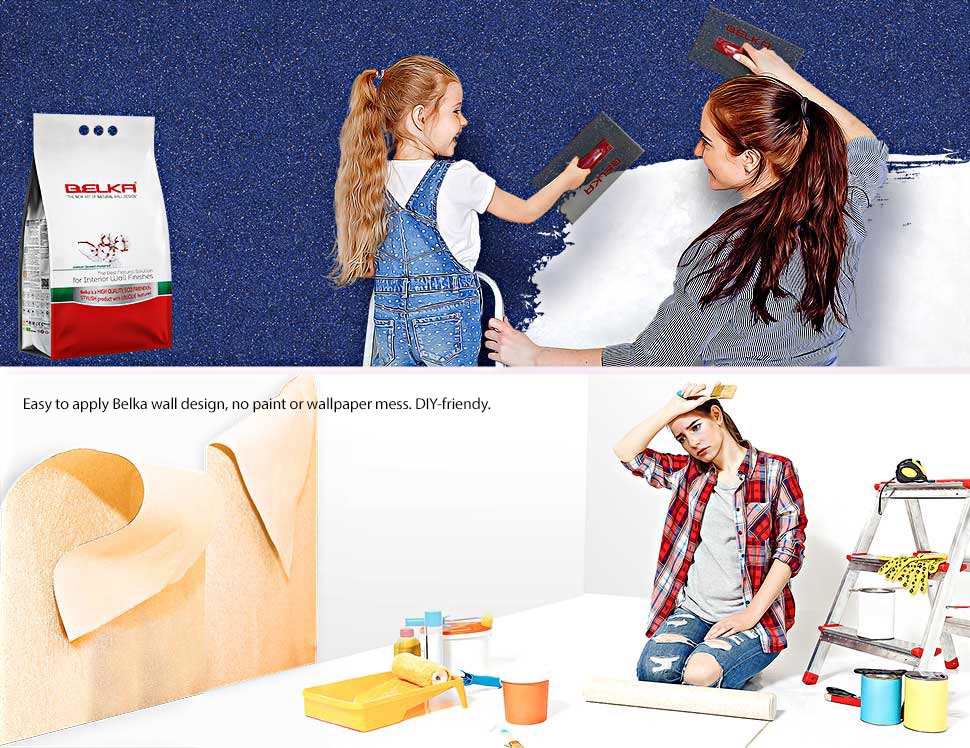 Want to redecorate your bedroom? Want to remodel your kitchen or repaint your bathroom tiles? Then you're probably worried about the mess that comes with painting a room or hanging wallpaper.
For too long, we've been ruining clothes and furniture with paint splatters and glue. We need a wall design that is easy to apply and a truly DIY wallcovering. That's why a major Belka feature is its simple application.
Renovating your interior with Belka is easy: Mix Belka powder with water, knead well and apply with a trowel. That's it! It's faster and cleaner than both paint and wallpaper, and allows for more creativity. See for yourself how easy it is to enhance your space with Belka.
As a renter, you want to make your home your own without risking your security deposit. Many want bright and colorful walls, but worry about having to paint them when they move out.
Belka solves this problem for you: Our DIY wall design is easy to remove. Belka's unique properties ensure that it won't damage walls or ceilings, even after years. Simply spray the wall with water until Belka softens, then peel it off. Wipe the wall clean and voilà, you've restored your walls to their original condition, ready for inspection.
What are you waiting for? Explore our 60+ colors and finally turn your rental into the home you want!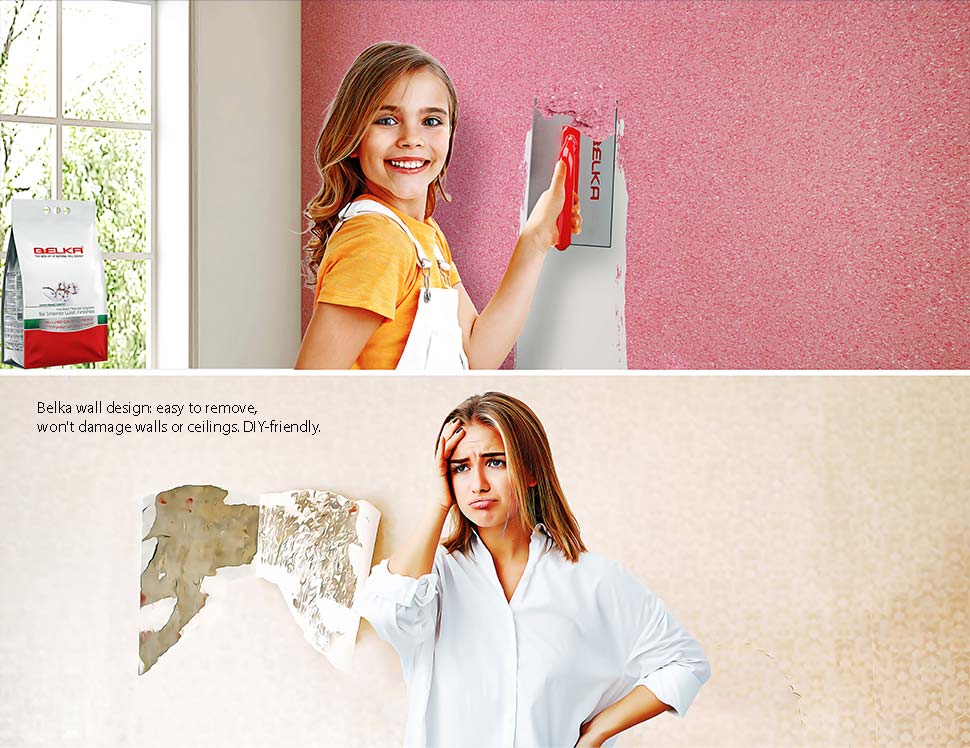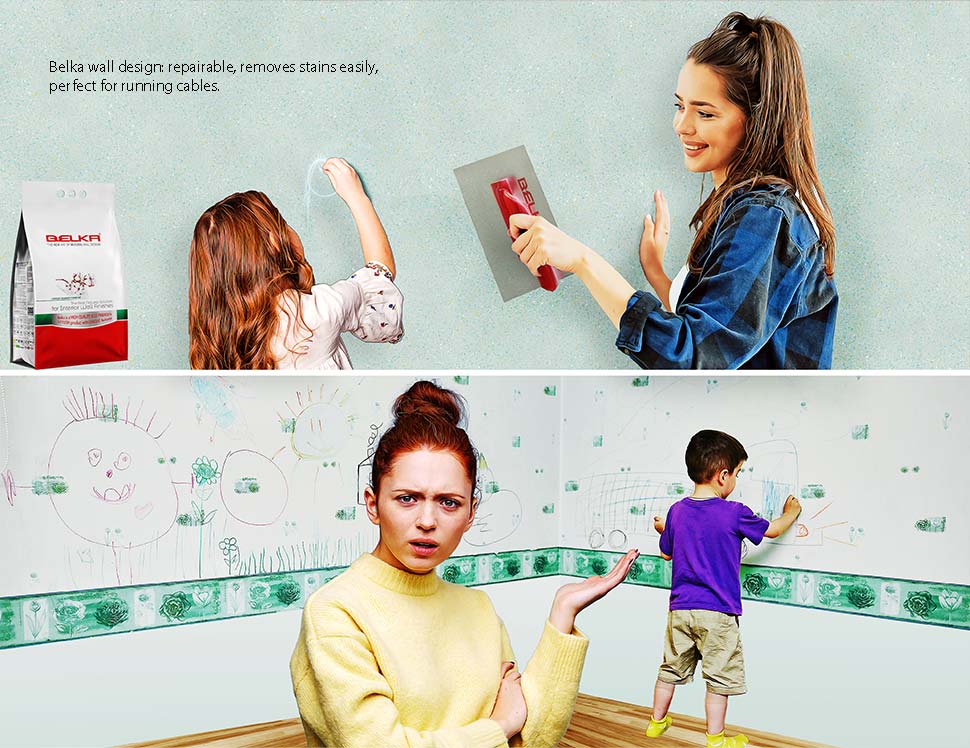 A safe nursery wallpaper, a stunning living room accent wall, a serene bedroom wall design, an inviting hallway or colorful corridor... all well and good until life leaves dents and stains on your walls.
But not with Belka! You can easily remove red wine stains from Belka wallcoverings, remove children's paint from walls or repair dents.
Where you'd have to repaint an entire wall, you can simply scrape off the stain or blemish with Belka. Where you'd have to remove and reapply wallpaper if you damaged the wall, Belka wall design is repairable.
This Belka feature delights our customers in many ways. Even running cables is easy with Belka wall design. Simply remove it to access the wall underneath, run the cable, then close the wall. Wet the surrounding Belka before patching the whole thing with new dough. It'll look as good as new!
Belka Next Generation Wallpaper
Belka Wallcovering For Any Surface
Thinking of turning your kitchen into a room or tired of the bathroom tiles? Thanks to Belka's advanced technology, you don't need to remove old-fashioned tiles before you can refresh your bathroom or remodel your kitchen.
Our wall design adheres to any surface, including conventional wallpaper, tiles, concrete, stone, brick, plaster, metal, untreated wood and even glass. Find out just how many surfaces this Belka feature applies to.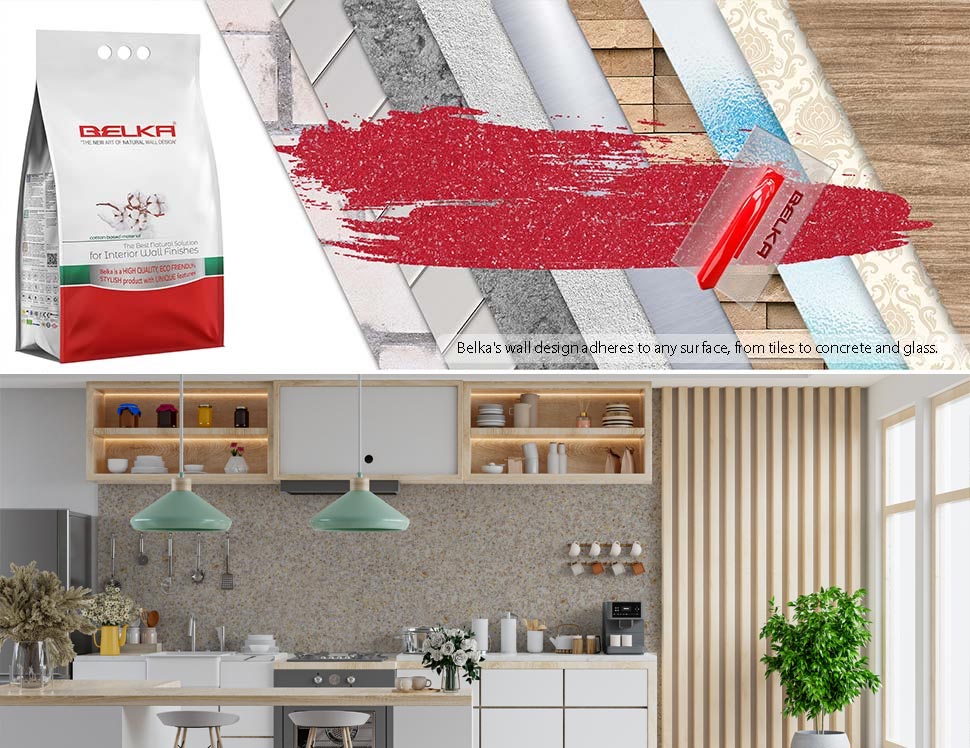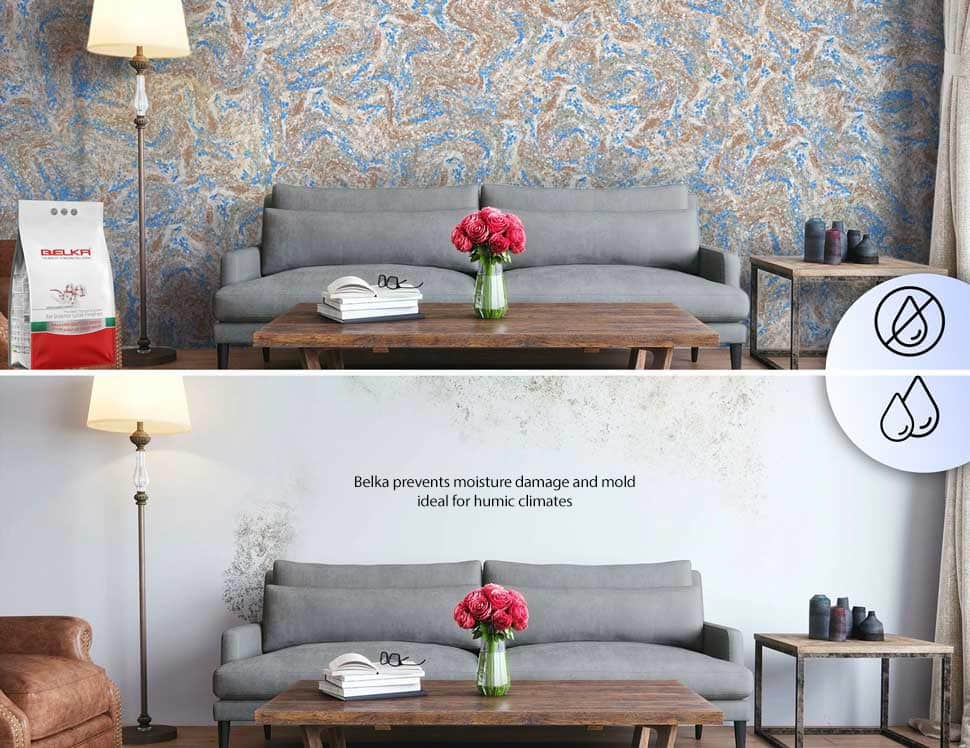 Belka Mold Resistant Wall Design
Moisture causes a lot of damage to your walls, including cracking, blistering, and peeling. If the moisture level in a room is high, it will destroy your property more and more every day.
Moisture damage is a common problem with wall paint or traditional wallpaper. Thanks to our unique Belka features, you don't have to worry about mold with Belka. It's like mold-stopping wallpaper, only much, much better.
Retains up to 2 liters or water per m²
Prevents moisture & sweat on walls
Ideal for humid climates
Belka Long-Lasting Wall Design
How long before your painted walls start to crack or your wallpaper tears? Houses move and shift, damaging your wall designs. Belka's durable cellulose structure prevents cracking and prolongs the life of your stylish interiors. How does it do this? It's high flex margin adapts to movement and prevents tears in your wall design.
Beyond cracks, several other new technology Belka features ensure you'll enjoy the results of your DIY renovation for years to come.
80x more durable than wallpaper
Flexing margin compensates building movements
Easy to repair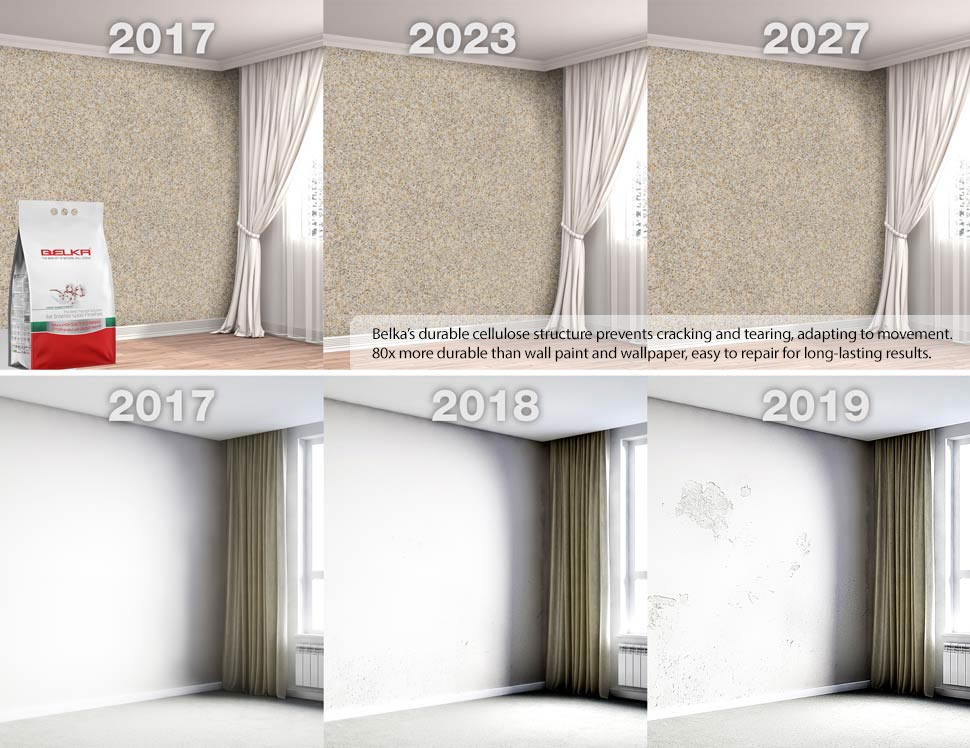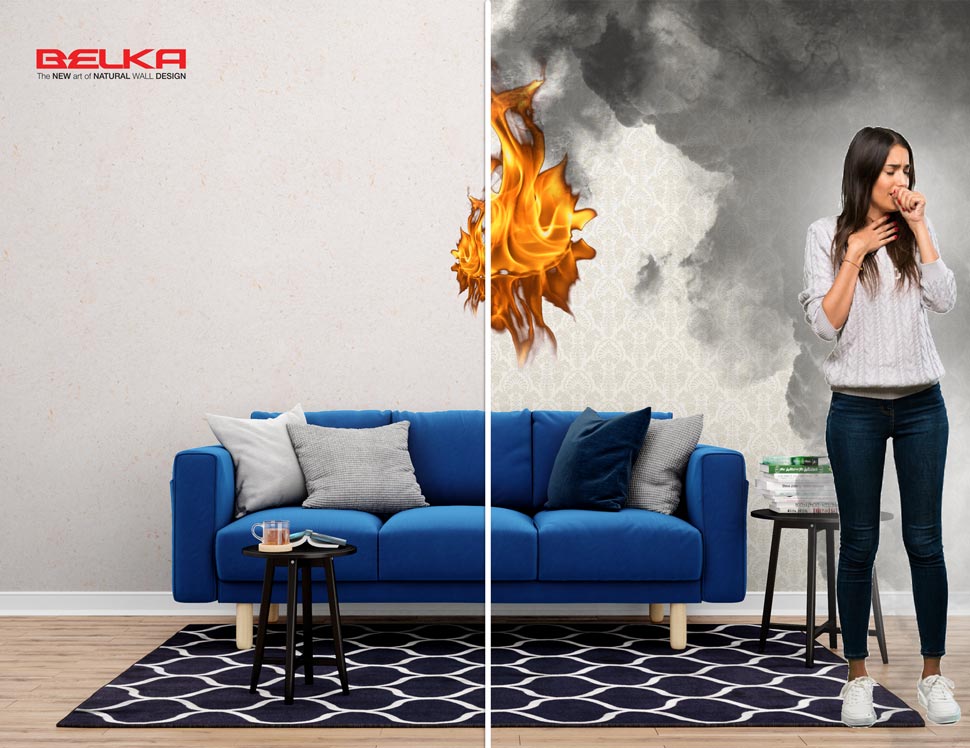 Belka Fire-Resistant Wallcovering
A fire in your home or office building can cost lives and ruin your property. That's why more and more people choose fire-resistant wall designs to reduce the risk of harm.
Belka is TSE certified as non-flammable, even at high temperatures, and will keep you safe.
Belka Odorless Wall Design
The pungent smell of paint or stench of wallpaper paste can affect even the most passionate DIY lovers. In addition to the horrible smell, such chemical fumes can also affect your respiratory system and health.
Belka is completely odorless during and after application. This Belka feature also makes Belka an anti-allergic wall design that is safe to use for people with asthma.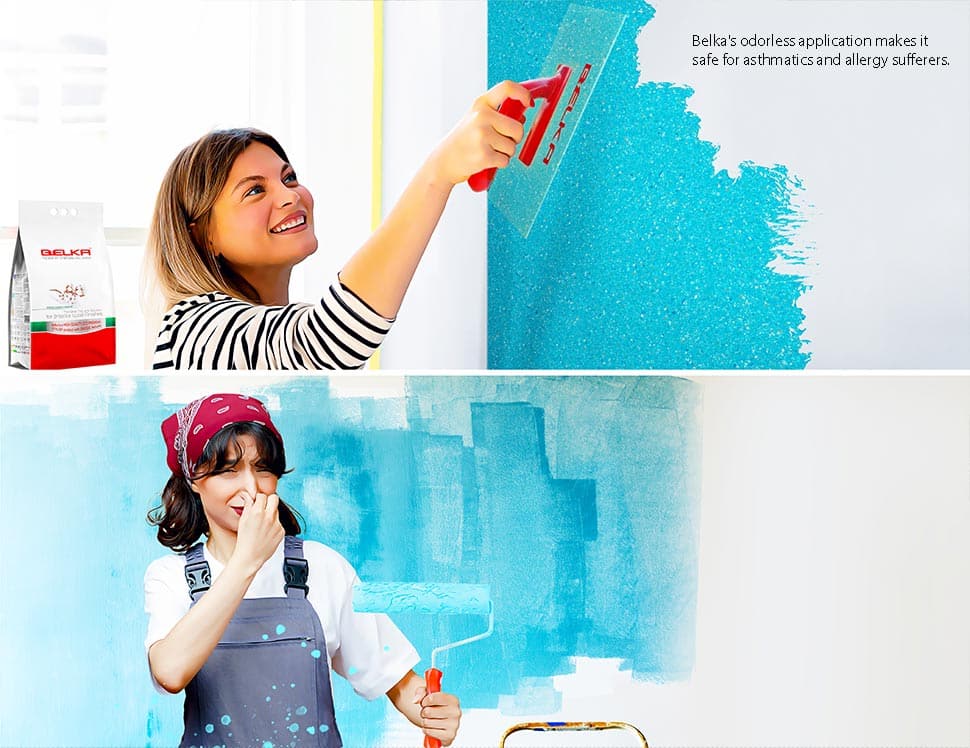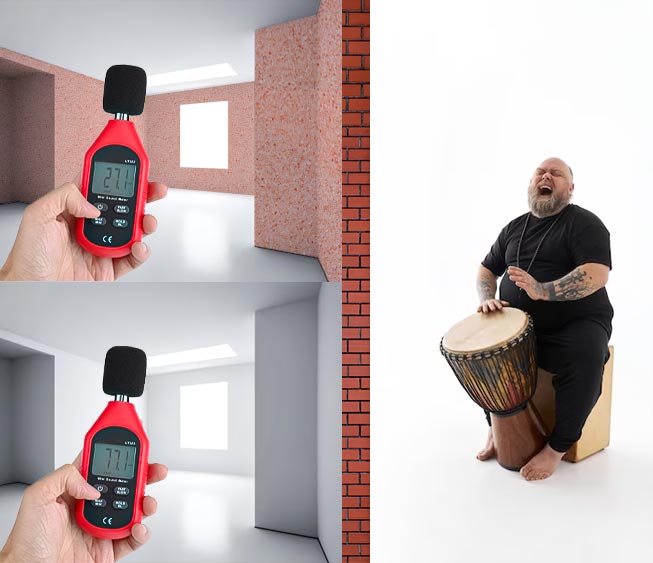 Belka Sound Insulation Wallcovering
Belka wallcoverings not only provide excellent thermal insulation benefits but also have impressive sound insulation properties.
With its advanced technology and natural composition, Belka acts as an effective barrier against noise pollution. Whether you want to block out traffic noise or reduce echoes in a large room, Belka's sound insulation properties can make a significant difference.
Choose Belka wallcoverings for a stylish and functional solution to improve the acoustics of your space.
Even More
Belka Features

Since the invention of Belka in 1996, we have continued to develop the technology behind Belka. As a result, you can enjoy many of the benefits of our next generation wall design and discover which Belka feature is most useful to you.