Thermal Insulation and Decor In One
Discover how to apply Belka, the eco-friendly and easy-to-use wall coating made from natural cotton fibers. Follow our step-by-step guide and transform your walls with stunning DIY designs.
Belka Installation Steps
Ready to enjoy interior wall design? With Belka, you can transform any wall or ceiling in three simple steps. Unlike wallpaper and wall paint, Belka keeps your space clean. Discover how you can apply our next generation wall design with ease… and joy!
Step 1: Add water
To get started, you'll need a storage box or similar container. What area do you want to cover? Based on square meters, you can determine how much Belka and water you need to add.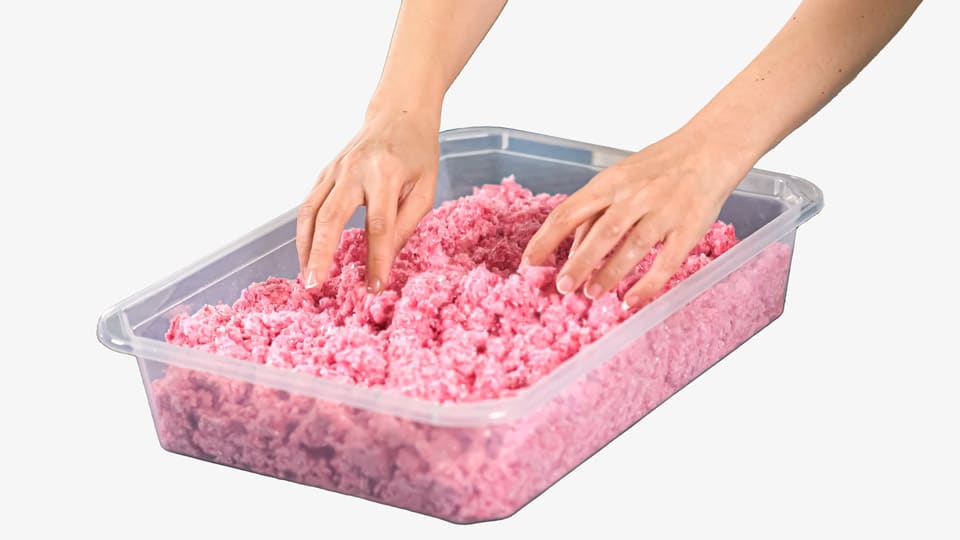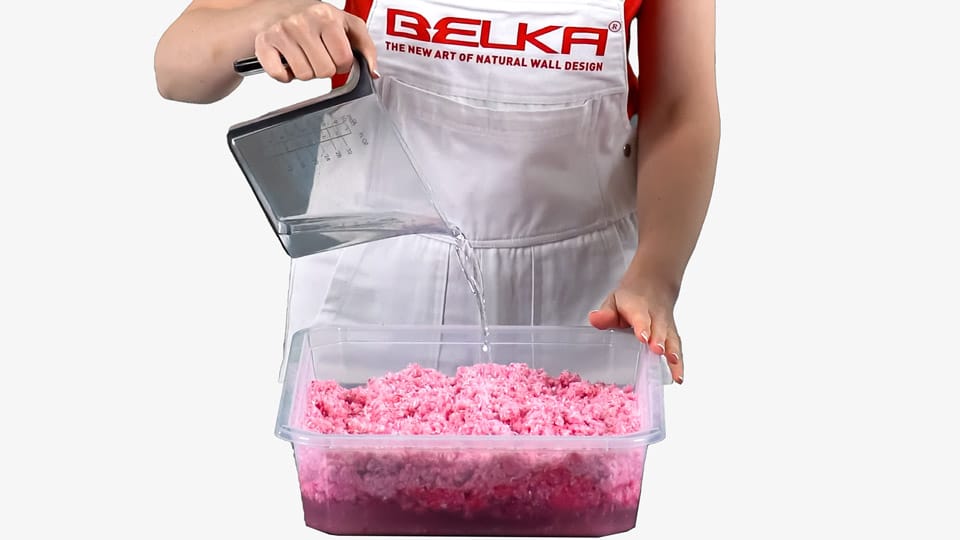 How much Water do I need?
1 kg of Belka covers about 3.5 m² and for each kg you can add 3 to 5 liters of lukewarm water. Ideally, the water should be at body temperature.
Do you want your walls to really shine? Then add Belka mineral stones at this stage.
How much Belka do I need?
The amount of Belka you need is easy to measure:
1 kg of Belka covers about 3,5 m².
3 kg of Belka covers about 10,5 m².
10 kg of Belka covers about 35 m².
The exact area depends on how thick you apply Belka wall design. We recommend 1-2 mm, but you are welcome to use more, for example to cover cracks.
To make your walls and ceilings shine, you can add Belka mineral stones to the dough. Choose between our different styles and create your own unique design.
What happens if I add too much water?
We recommend you add 3.5 to 4 liters of water for optimal quality. If you accidentally use more, it will increase the drying time and compromise the product.
Step 2: Knead Belka and water
Belka is 100% safe, so you can mix Belka and water with your bare hands. Belka will feel pleasant to the touch as you knead it into a dough. Allow the dough to rest for a minimum of 35 minutes and a maximum of 50 minutes, then knead thoroughly again.
Please note that a good kneading before and after the resting period is essential. Belka's revolutionary cellulose structure needs to absorb all the water to develop its unique properties.
You can also use a mixer if you prefer this to kneading by hand.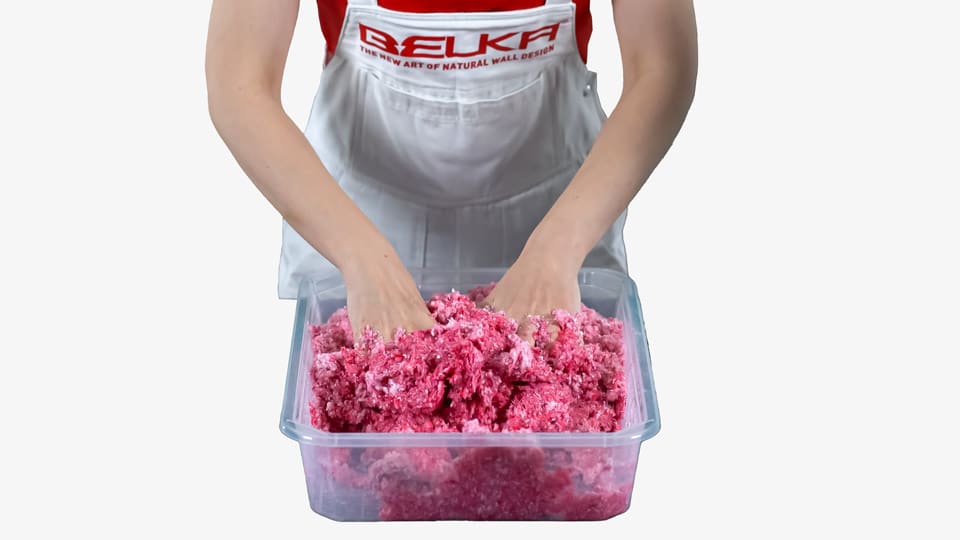 Step 3: Apply Belka on any surface
Now the fun really begins! Grab your trowel and move to the edge of the area you want to cover.
Applying Belka from the corners first is the best and easiest way.
For effortless application, hold the trowel to the wall at a 5 degree angle. Do your best to maintain this angle as you apply the dough to the wall or ceiling.
We recommend a minimum thickness of 1 to 2 mm, but you're welcome to apply a thicker layer of Belka to increase Belka's thermal insulation and sound absorption properties.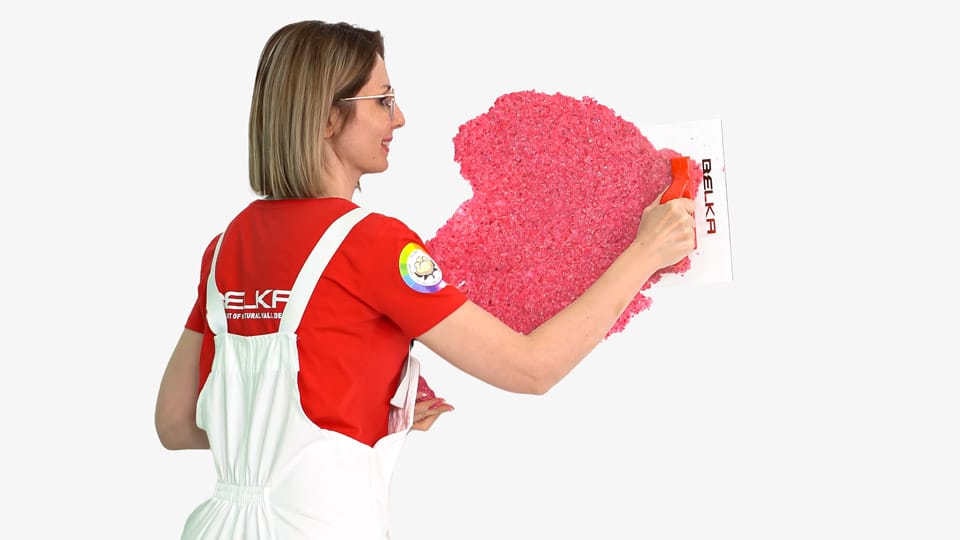 How to apply Belka on corners?
Simply use the steps that the video mentioned.
How to apply Belka on Belka?
Simply use the steps that the video mentioned.
How To Apply Belka – Installation Questions
How do I store leftover Belka or dough?
To maintain the quality of the product, store any remaining Belka powder in an airtight container at room temperature.
If you want or need to take a break when applying Belka, the leftover dough keeps in the fridge for 10-12 hours.
In case you're unable to use the prepared dough within three days, we recommend that you prepare a new mixture to ensure the best possible results.
How long does Belka take to dry?
Belka takes between 7 and 48 hours to dry, depending on the humidity of the air and the thickness of the wall design.
To speed up the process, create air circulation in the room you have redesigned. You can do this by opening windows or installing a fan in the room.
How do I know Belka is completely dry?
Gently touch the surface to see if there is any moisture left. Belka should feel like dry cotton and the color will have become lighter as the water evaporates.
Can I apply Belka at intervals?
Yes! It was important to us to provide you with a new technology wall design that adapts to your needs, so you don't need to complete a wall or a ceiling in one go.
How to finish an incomplete wall design with Belka:
Add water to your leftover dough and knead well, or prepare a new Belka paste for the remaining area.
Spray water onto the last 30 cm of the unfinished wall design until the dried Belka becomes soft again.
Apply Belka to the rest of the area and complete your design.
How To Repair Belka
What if your kids paint on the walls or everyday life causes dents and damage? Simply repair Belka!
Step 1: Spray Belka with water
In case you need to repair Belka, simply spray the affected area with water until Belka becomes pasty.
Step 2: Remove the damage
Scrape off any damaged area until all blemishes are gone.
Laying cables after applying Belka
Do you need to add a cable to the wall after you've already designed your living room or remodeled your kitchen with Belka?
You can fully restore your design, even if you have to place cables inside the wall.
Simply remove Belka from the intended area and reapply once done. It's really that easy!
Step 3: Repair
If the damage is superficial, you can spread some of the surrounding Belka until the surface is smooth again.
In case the dent is deeper, you'll need to mix a new paste and fill the hole or crack.
How To Remove Belka
What's better than a high-quality wall covering that you can apply easily? One you can remove just as easily!
Whether you want to change the decor in your living room, remodel your kitchen or are renting and worried about risking your security deposit, Belka is ideal for you.
Step 1: Spray Belka with water
The first step in removing Belka is also to add water. Spray the area you want to remove generously until Belka becomes pasty again.
Step 2: Peel off
Once Belka is soft enough, you can easily remove it without leaving any residue on the wall.
Unlike paint or wallpaper, Belka will not damage the wall. In most cases, all you need to do to clean it is wipe it with a damp cloth. For brighter colors such as red, you may need to add soap or dishwashing liquid.
Even years after installing Belka, your walls and ceilings will remain unaffected.
Step 3: Reuse
The dough can be reused and elevate another wall or ceiling. Simply add water and knead well as you would a new paste before unleashing your creativity.
Please note that the quality will diminish slightly when reused.
Create Custom Wall Designs With Belka
Unleash your creativity with 60 stunning colors: We designed Belka so you can mix shades and create new patterns that truly fit your personality and project.
For even more stylish and vibrant designs, you can add Belka mineral stones to the mix. They will truly make your walls and ceilings shine!
How to mix Belka colors
To create unique wall designs, prepare each color separately and let them rest for 35-50 minutes. Combine the colors to your liking and knead well again. You're now ready to create your own custom Belka wall design!
Tips for mixing Belka
Over the years, Belka and our customers have found the best ways to mix Belka. For an extraordinary marbled look, mix the colors only slightly. The more you knead, the finer they will blend and you may end up with a new color instead of two combined colors. If you want an accent wall, use a darker shade to offset the side of the room. You can draw patterns on the wall for more complex designs, or create a stencil to guide your application.