Kitchen Wallpaper Ideas in Popular Colors
Enhance Your Kitchen with Belka: Fire-Resistant, Repairable, and Durable Wallpaper
Kitchen Wallpaper - Wall Design
Modern Kitchen Wallcovering
The heart of our home nourishes us on so many levels: Our kitchen is where we cook with our family, spend time together, sneak a snack or grab a drink and rehydrate.
It's time to update your kitchen wallcovering and create a space that delights you with form and function. Easy to clean and repair, Belka is the ideal wall covering for any busy kitchen!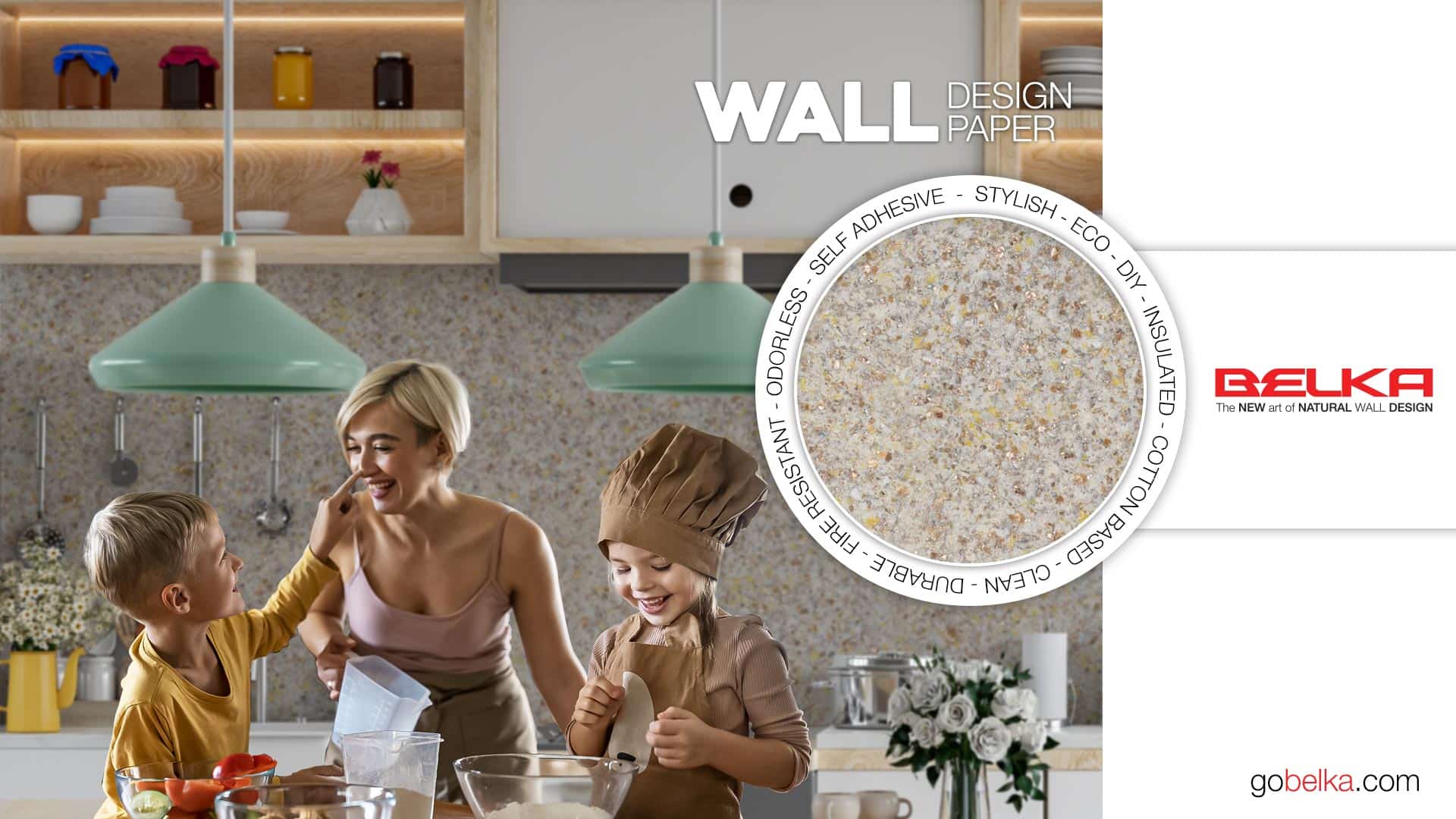 with Belka
Explore Modern Kitchen Wallpaper In Every Style
Belka's unique colors appeal to every taste. Create your own designs by blending shades and get inspired by our kitchen wall design ideas.
Unique Kitchen Wall Covering Ideas
Ready to transform the heart of your home into a feel-good room? Then explore our modern kitchen wall covering ideas.
insulate your ceilings with Belka!
Ecological Kitchen Wallpaper Ideas

Reduce your energy costs and create a unique design for your kitchen by applying Belka to your ceiling.
It will give your kitchen a modern, unique look and insulate your walls from the inside. For best results, use Belka on your kitchen walls as well.
Easy-To-Clean
Easy-To-Clean Kitchen Wallcovering
Belka combines form and function: It's a repairable kitchen wallpaper. Belka has anti-dust and anti-static properties, giving it an easy-to-clean surface.
You can remove stains or splatters from Belka with a few simple steps. Just spray the area with water, scrape off the stain and smooth down. 
If you're looking for an easy-to-clean kitchen wall design that's even better than repairable wallpaper, discover Belka.
Redesign The Heart Of Your Home As You Desire
With Belka, you can do more than transform your kitchen into a modern home base for your family. You can save time and money thanks to Belka's unique features and spend more quality time with your loved ones.
Kitchen wallpaper for tiles
Tired of old tiles? With Belka, you don't have to remove them to renovate your kitchen. Thanks to Belka's advanced technology, our kitchen wallcovering holds on any surface, including tiles, metal or glass.
You won't even need to prepare the surface: Simply mix Belka with water, knead well and apply. Cover tiles without preliminary and enjoy a modern kitchen wallpaper that will delight you at breakfast, lunch and dinner.
Repairable kitchen wallpaper
Kitchens can get messy and pots and pans can damage the wall. All the more reason to find a kitchen wallpaper that is easy to repair, like Belka.
Simply spray the area with water until it softens and use the surrounding Belka to smooth the surface. For larger dents, you may need to apply more Belka to make it look as good as new.
If you're looking for an easy-to-clean kitchen wallpaper that's even better than washable wallpaper, you'll love Belka.
Fire-resistant kitchen wallcovering
A fire in your kitchen can cost lives and ruin your property. That's why more and more families choose fire-resistant wallcoverings to reduce the risk of harm.
Belka is TSE certified as non-flammable, even at high temperatures, and will keep you safe.
The next generation of wall design
In the 16th century, merchants used small sheets of paper to decorate the inside of their cabinets. Today, wallpapering is a messy, difficult, and time-consuming way to freshen up your interior.
Good news for your patience and your walls: As a new technology wallpaper, Belka recognizes the problems of wallpaper and solves them for you. Belka adheres to any surface and requires no preparation. It's a clean wallcovering, and with more than 60 colors, you can find a combination that perfectly matches your style.
Say goodbye to paint splashes
Humans love decorating walls so much that we've been painting the interiors of our homes since the 12th century. Paint also means we're ruining clothes, furniture and our health with paint splashes and harmful toxins.
Belka is a natural, DIY wallcovering that is faster to use and safer than paint. It provides powerful insulation without the use of chemicals. Good for you, your wallet and the environment – welcome to the next generation of wallpaper.
Explore Belka Wallcovering For Any Room
If you love Belka as your kitchen wallcovering, you'll also enjoy this ecological wallcovering in the rest of your home.
Whether bedroom design ideas or examples for safe nursery wallcovering, Belka has you covered!
Or are you looking for a durable wallpaper for your business? Belka will insulate your restaurant, hotel or office while providing a luxurious finish for years to come.